Sister fighting with her adopted brother from day one he joined his new family and stepmom is sick of their daily basis quarrel.
Stepmom addressing them lightly says maybe they have a crush on each other to keep them down before leaving the room.
Adopted brother and sister give it a thought to find out if mom was right, so sister starts jerking brother dick.
In her erotic response brother poke his cock inside her greedy twat. Suddenly mom enters the living and gets shocked, to see his adopted son banging her daughter until he creams her cooch, and mom was still there secretly standing behind them watching. Siblings had no idea that mom is watching them and touching herself.
She silently leaves the living room and goes to her bedroom to work on her own pussy as she still had pictures of her kids in her mind fucking each other, which made her really horny.
The next day both siblings go to stepmom to gift their mom her mother's day present which was some sexy pink lingerie and insist on her try it.
But mom says she'll try it later after the shower and leaves the room.
Once again brother and not her actual sister were alone, and they decide to pursue their dirty incest fuck again right there on their mom's bed.
They don't realize Mommy has come back from the shower wearing her gifted mother's day lingerie to show them.
But it was too late to realize they'd been caught, but big titties' mom had some other dirty plan cooking in her mind. She hops onto her daughter's face instructing her to lick her mature cunt and commands her adopted son to continue fucking her daughter.
Son does exactly what mom says and takes his turn in the middle and fuck her stepmom until he satisfies both of them, the whole family works together as a threesome team until the son rewards them with a double facial creampie. This was the best Mother's day gift she had, what mommy exactly wanted.
Screenshot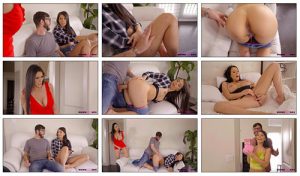 Date: August 28, 2019
Last Modified: May 15, 2022