Fucking Boss' Latina Daughter
Naughty Latina daughter stopped by at dad's office to see him as soon as she was introduced to his handsome employee she started flirting with him.
When she gets the chance to slip out from daddy's view, she had her hands and tiny mouth all over the employee's big cock right outside the dad's cabin.
This is why dads should not bring their daughters on work
She almost got caught while she was under his desk with the dick in her mouth, so she moves into the office restroom with him to finish off the job.
This Naughty girl is a screamer with a tight Latina body. Did I just mention she's a screamer? You'll Find Out
Screenshot: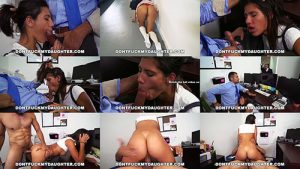 Date: August 26, 2019
Last Modified: May 24, 2021